Golden Globes 2020 winners full list, best moments, speeches and red carpet looks
Golden Globes 2020 took place today, with Fleabag star Phoebe Waller-Bridge among the winners. Priyanka Chopra and husband Nick Jonas arrived hand in hand and presented an award. Here are the highlights from the 77th Golden Globe Awards.
2020 award season has officially kicked off with the 77th Golden Globe Awards in Los Angeles on Monday. Hollywood actor Ramy Youssef was the first winner of the night for best actor in a TV musical or comedy for Ramy, and the ball kept rolling from there. British actress and writer Phoebe Waller-Bridge continued her reign with Fleabag, picking up awards for best TV series, musical or comedy, and best actress in a TV musical or comedy. Olivia Colman, one of Waller-Bridge's Fleabag co-stars, was also honoured, for playing The Queen in the third series of The Crown. Succession also picked up a pair of awards in the TV categories, as did Chernobyl. Meanwhile, Awkwafina made history at the 2020 Golden Globes with her win for lead actress in a movie comedy/musical as the first Asian actor to ever win the award in that category. The actress and rapper is of Chinese and Korean descent.
In the movie categories, Once Upon a Time in Hollywood nabbed the award for best musical or comedy, best screenplay, and best supporting actor for Brad Pitt. Joaquin Phoenix and Renee Zellweger took home the Globes for best actor and actress in a drama, and Sam Mendes's 1917 earned the award for best motion picture, drama. Before you check out the full list of winners, read on for all the Golden Globes 2020 moments that made the show worth watching.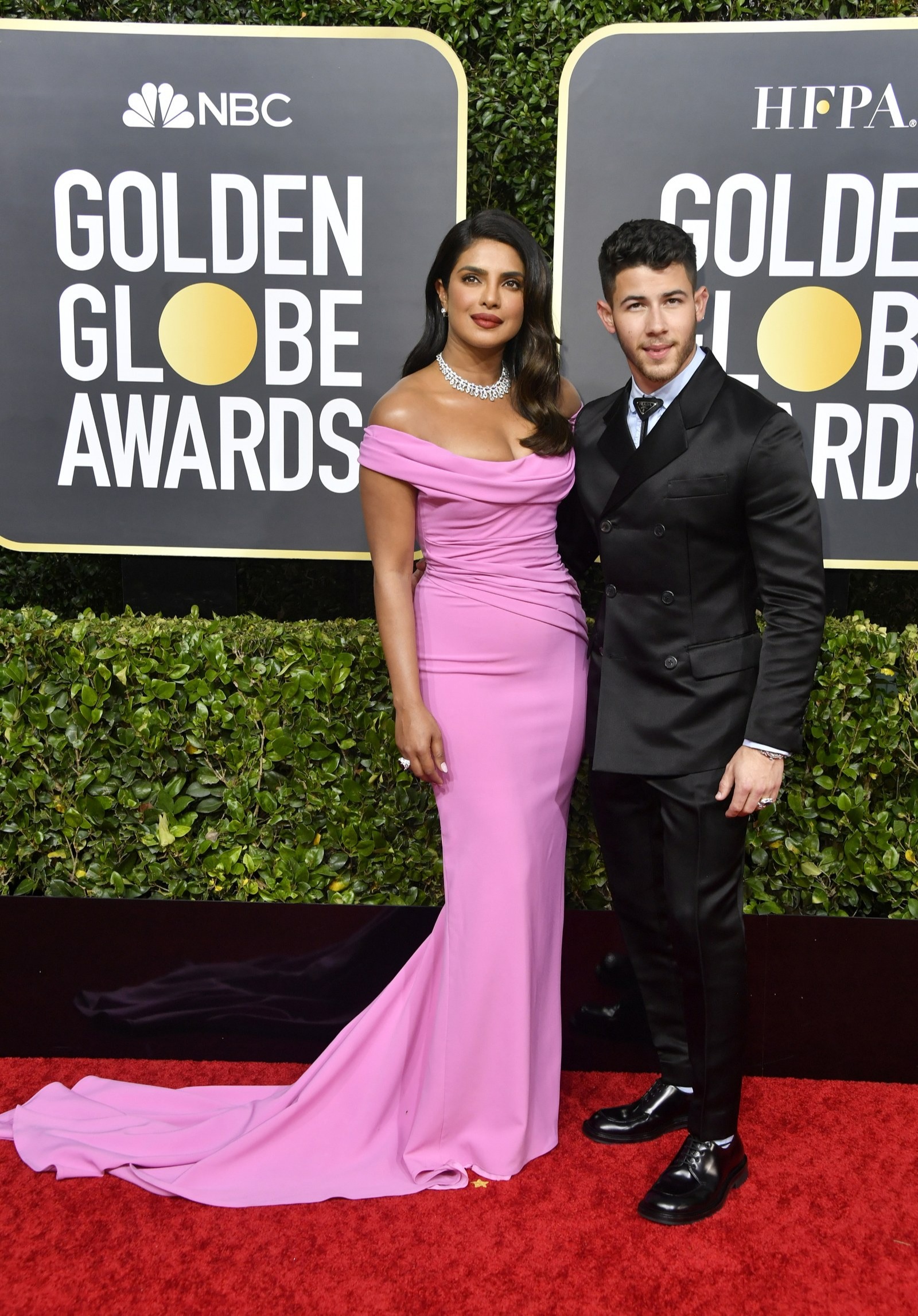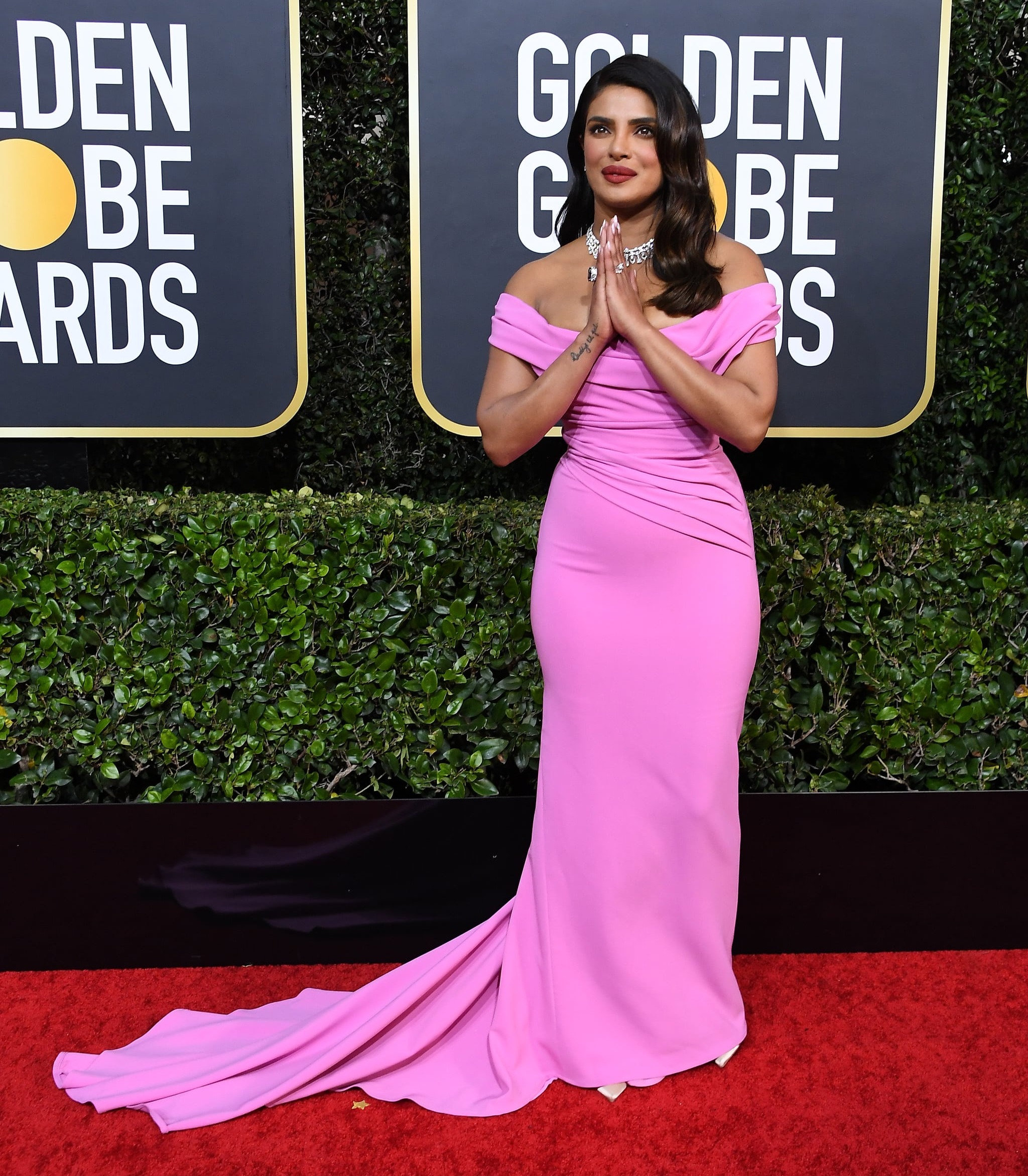 Priyanka Chopra is pretty in pink as she joins husband Nick Jonas at the Golden Globes
Actress Priyanka Chopra Jonas oozed glamour and elegance in a form fitting gown alongside her singer-husband, Nick Jonas, as the two arrived hand in hand. The couple presented the award for Best Comedy Series, which was won by Fleabag. The Sky Is Pink star's bubblegum-pink dress by Cristina Ottaviano featured an off-the-shoulder neckline and lengthy train that flowed as she made her way down the red carpet. Chopra Jonas accessorised the classic dress with several pieces of Bulgari jewellery: a ginormous pink jewel ring, diamond earrings, and a diamond necklace.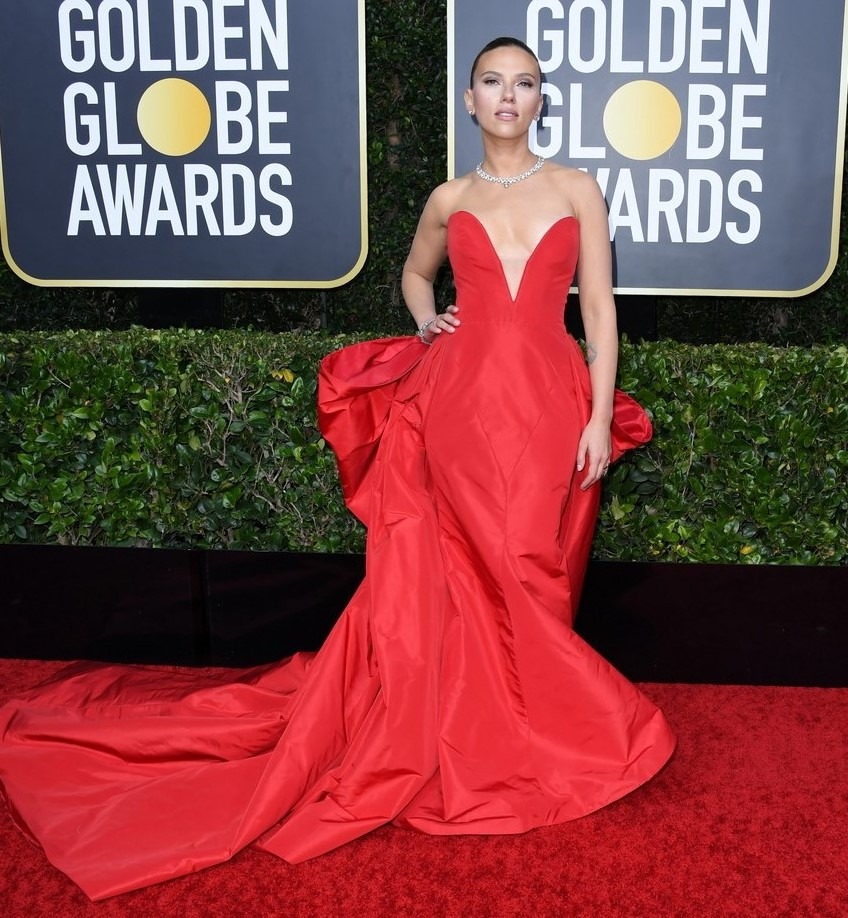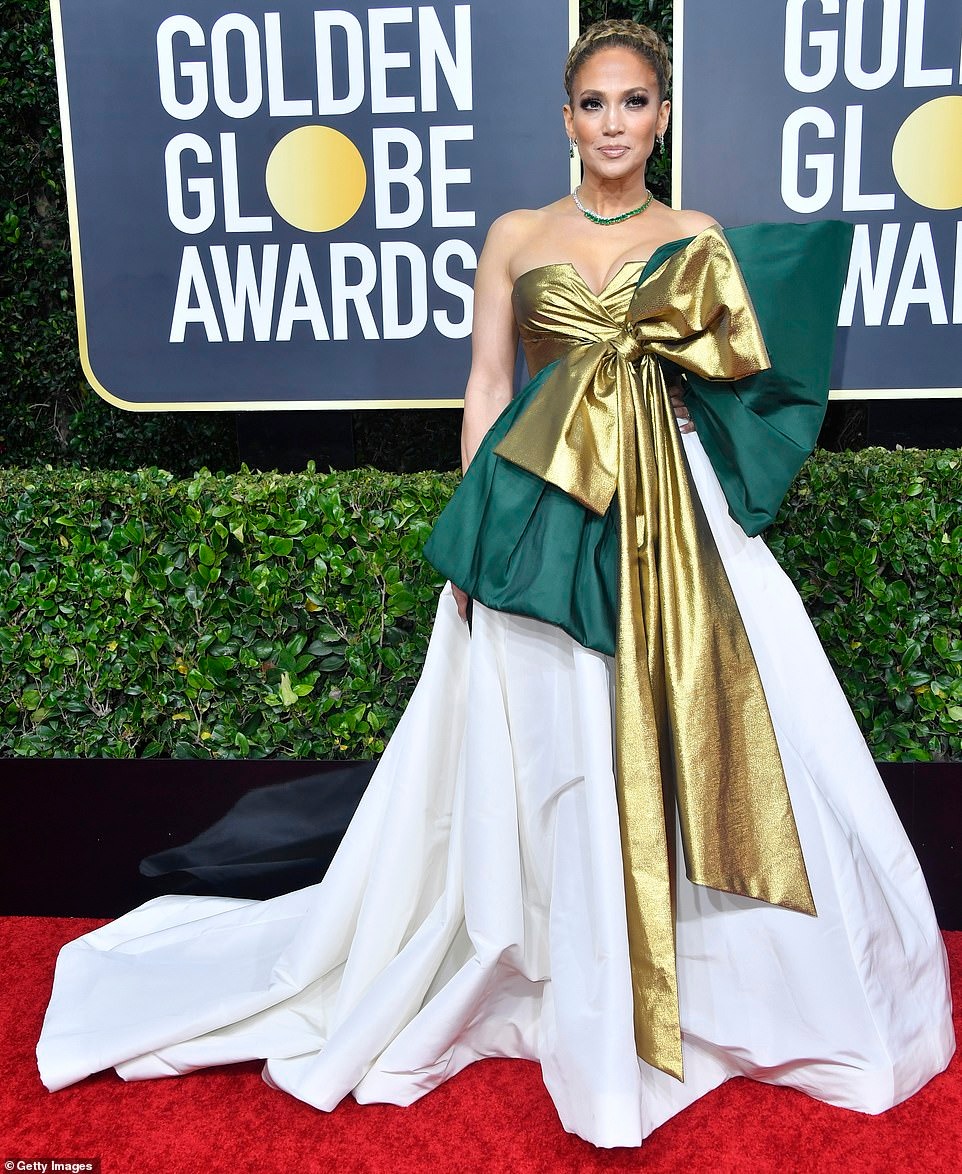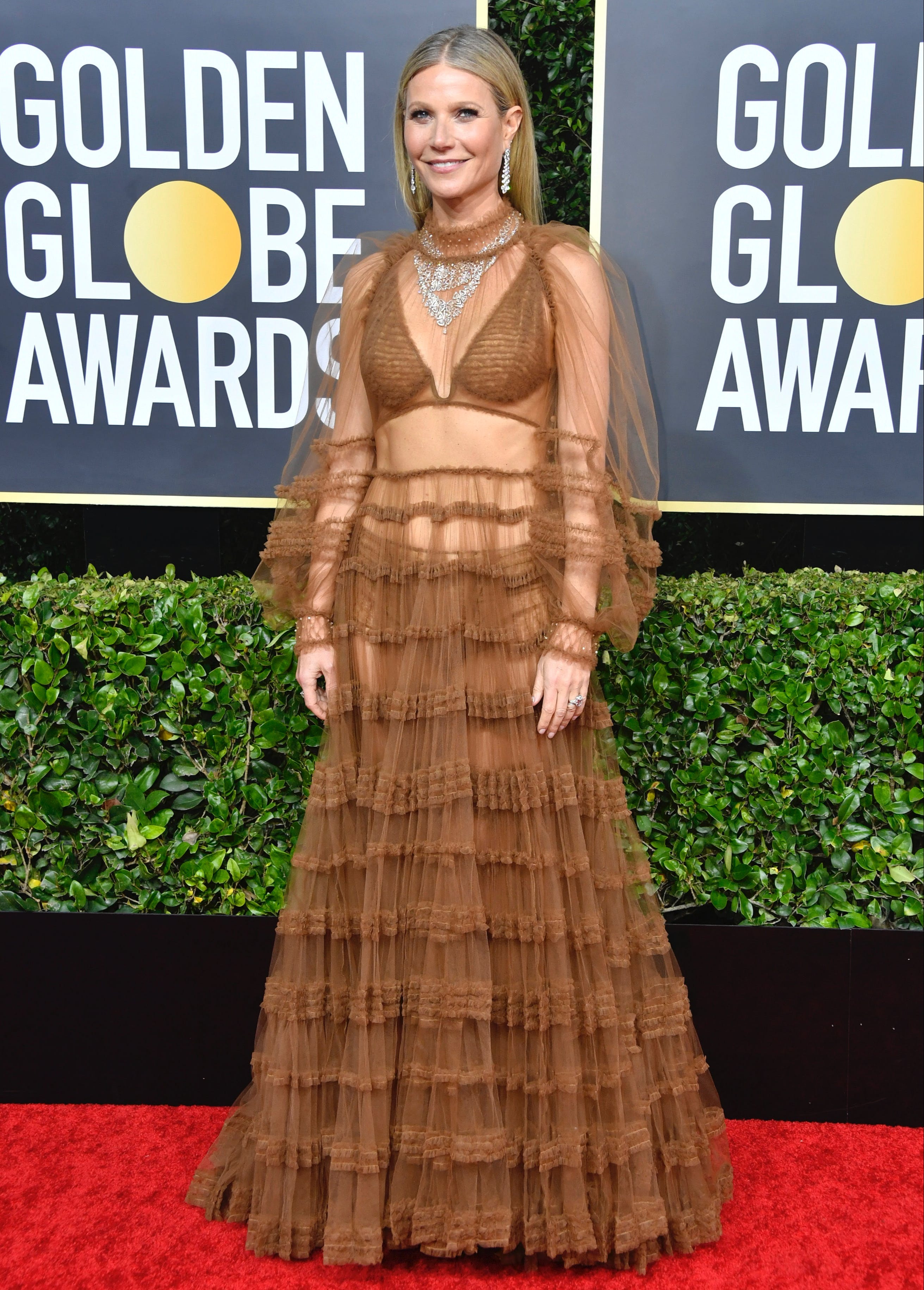 What celebrities wore to the star-studded event
The stars at the 2020 Golden Globes set the tone for the new decade, wearing a whole lineup of stunning ensembles. They hit the red carpet in looks that ranged from simple to bold and beautiful. From daring off-the-shoulder dresses like Priyanka Chopra's to statement-worthy jewellery, Hollywood's biggest stars took the 2020 Golden Globes red carpet up about a thousand notches with all manner of sexy styles. Plunging necklines, thigh-high slits, and sheer lace were aplenty: from actress Kerry Washington's barely there bejeweled top to actress Gwyneth Paltrow's lingerie-inspired look.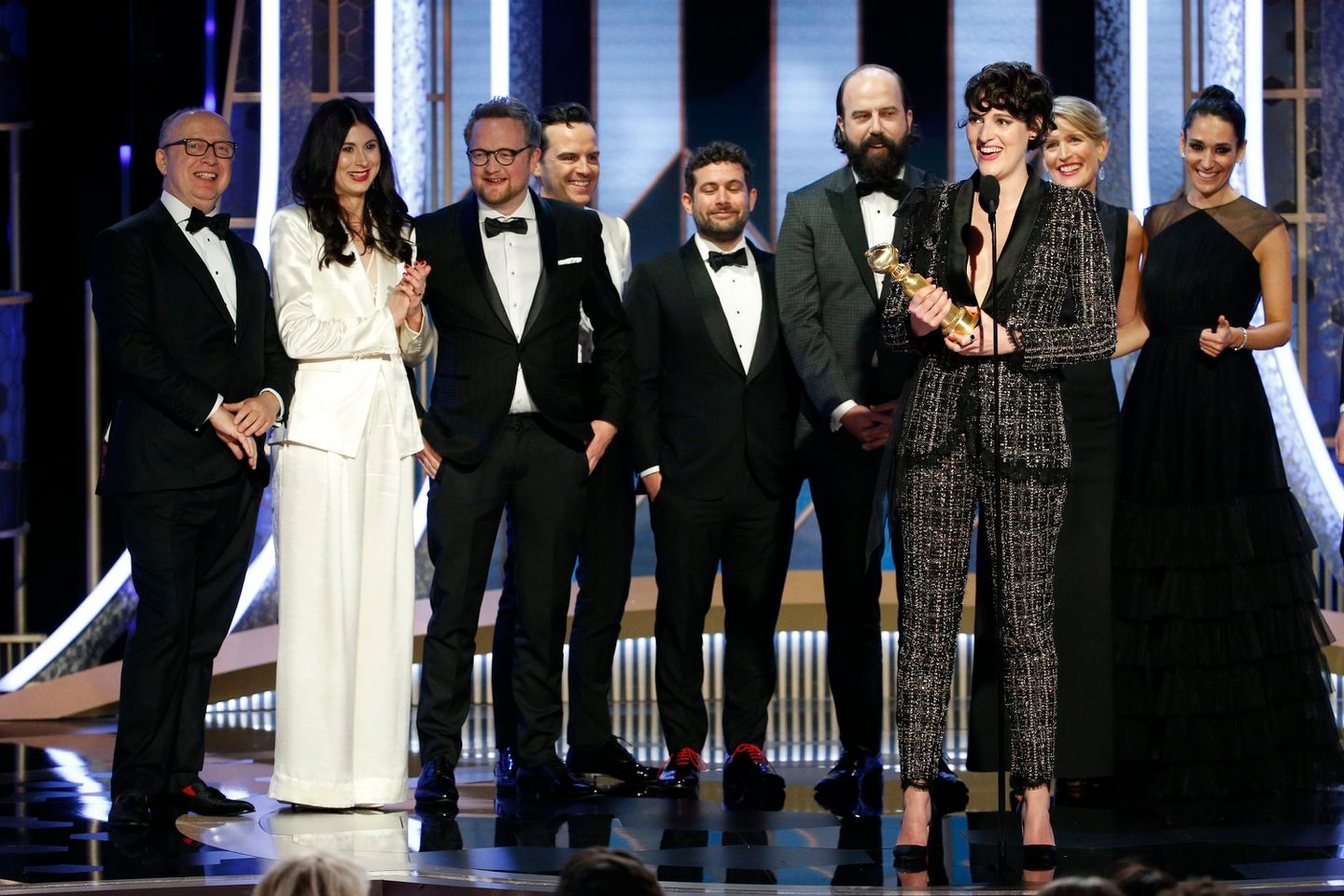 Phoebe Waller-Bridge jokes about Obama
It's about time for witty women to get recognised for their amazing talent, and that's just what happened when Fleabag took home the Golden Globe for best television series, musical or comedy, at the 2020 Golden Globes ceremony. During her acceptance speech, British actress and writer Phoebe Waller-Bridge gave a shout out to former US president Barack Obama, saying, "Personally, I would like to also thank Obama for putting us on his list," referring to when he shared his favourite television shows of 2019. The Fleabag creator added, "As some of you may know, he's always been on mine." If you haven't seen the show, here's a little context: In season one of the show, Waller-Bridge's character, Fleabag, ma********s to one of the former president's speeches while her boyfriend sleeps next to her, hence the uproar when she added that quirky comment during her speech.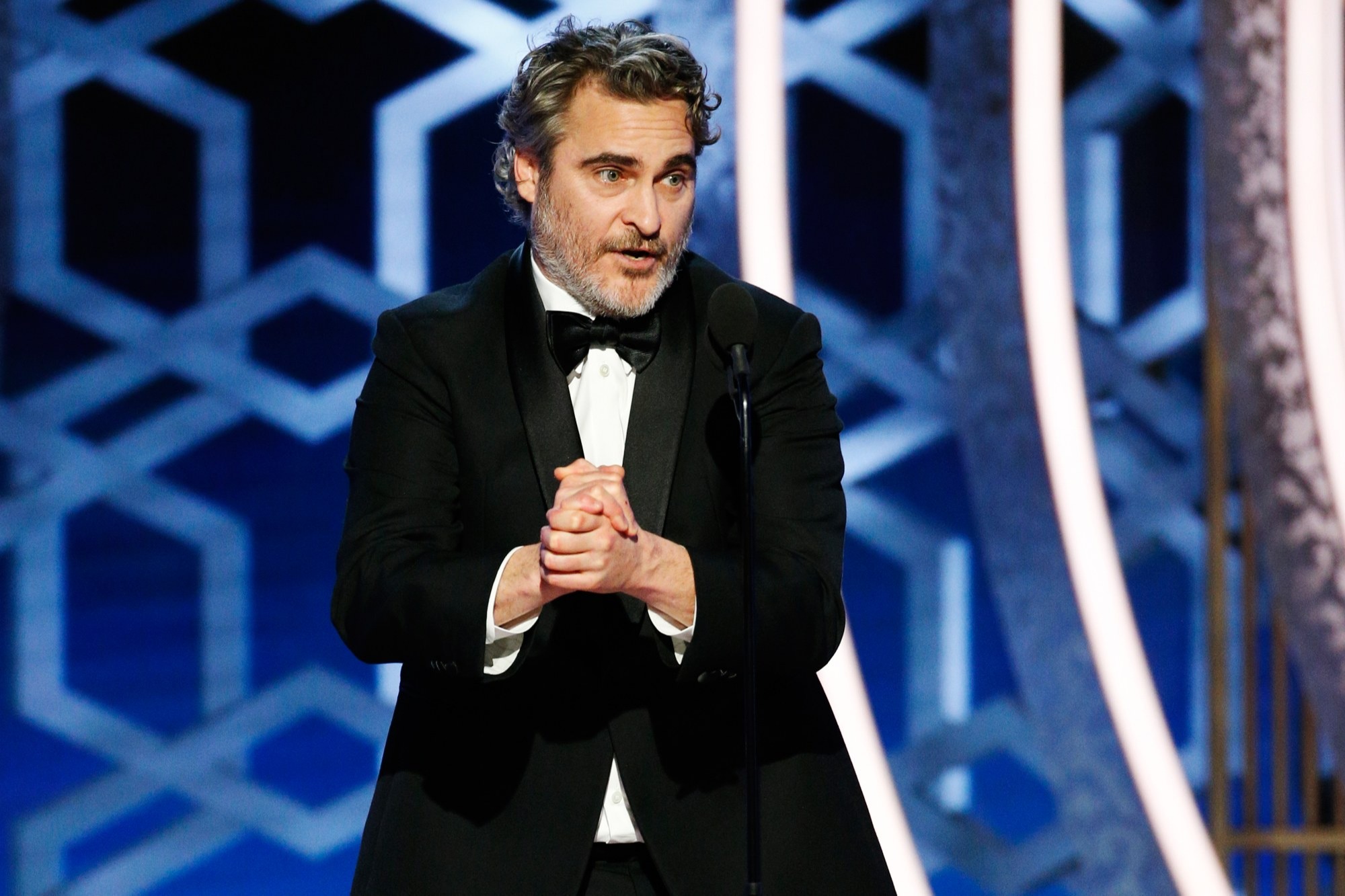 Joaquin Phoenix won a Golden Globe, and his speech was Joker-esque
Joaquin Phoenix seemed stunned as he won Best Actor in a Motion Picture, Drama, for his starring role in Joker. Taking the stage, he first thanked the Hollywood Foreign Press Association for serving everyone in attendance a plant-based meal: "Thanks for recognising the link between animal agriculture and climate change. It's a really bold move and it sends a powerful message." Then things went slightly off the rails and some of his speech got bleeped due to swearing. To his fellow nominees, he said, "We all know there's no f**king competition between us. It's a thing that's created to sell advertisements for the TV shows," he said. To Joker director, Todd Phillips, he said, "I'm such a pain in the a**, I can't believe you put up with me." He also added, "Contrary to popular belief I don't want to rock the boat. The boat is f**king rocked."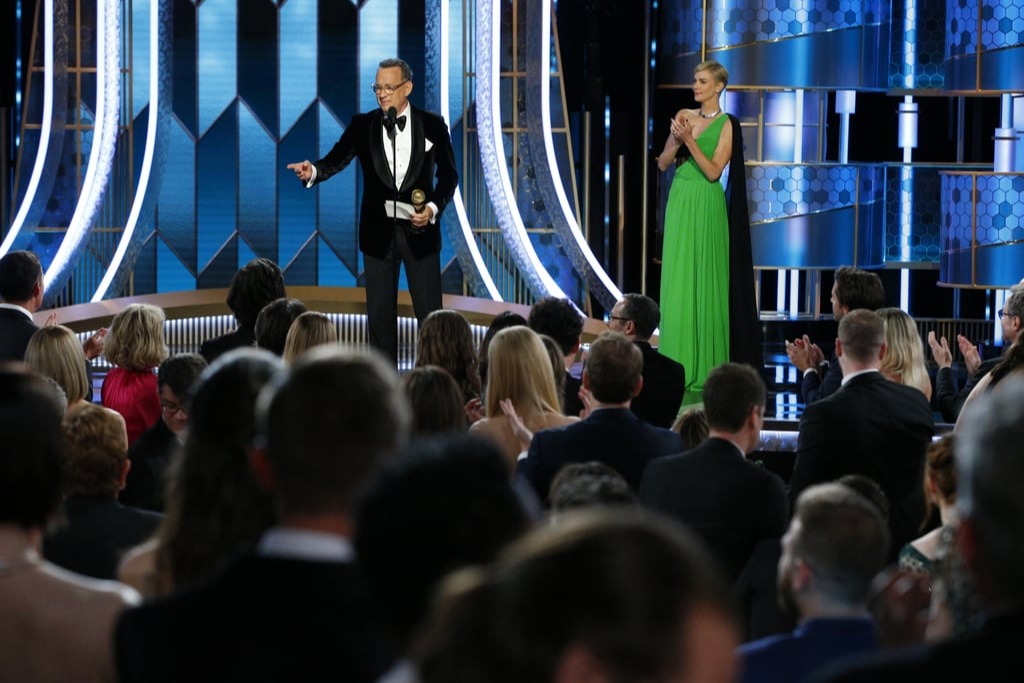 Tom Hanks teared up during his Golden Globes speech
The 63-year-old actor received the prestigious Cecil B. DeMille Award during the annual event, and his speech had the room laughing and crying in equal measures. When Bombshell actress Charlize Theron presented Tom Hanks with the award, he got a well-deserved standing ovation from the audience. "A man is blessed with a family sitting down in the front like that," he said, tearing up as he pointed to wife Rita Wilson and their five children. "A wife who is fantastic in every way, who has taught me what love is. Five kids who are braver and stronger and wiser than their old man is. I can't tell you how much your love means to me." Hanks went on to praise the great directors and actors he's worked with. "You're a dope if you don't steal from everybody you have ever worked with," Hanks said. "And I have stolen from the likes of the people that only need one name, like Meryl, like Denzel, like Antonio, like Meg, like Julia."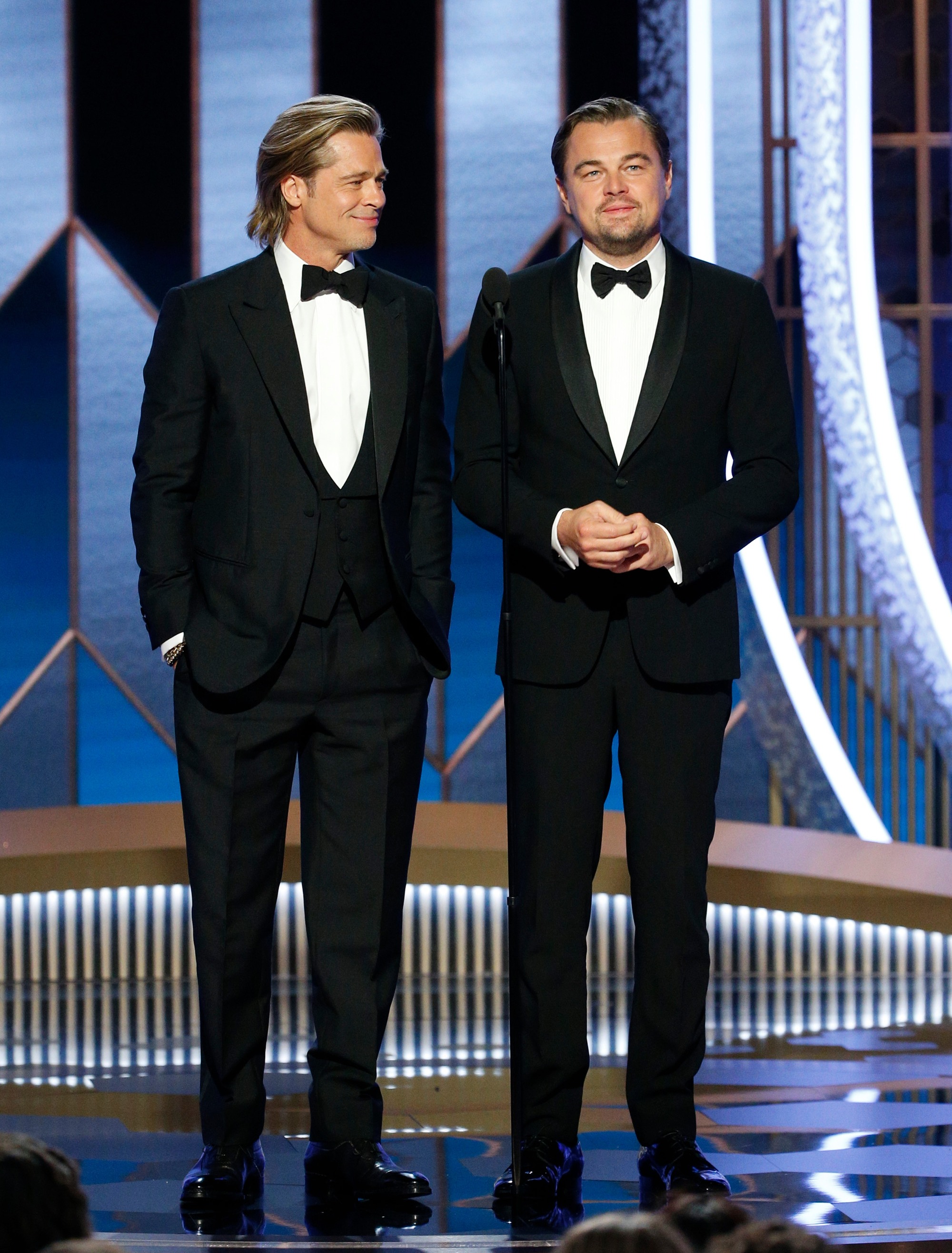 Brad Pitt praises and roasts Leonardo DiCaprio after winning
Brad Pitt took home his second-ever Golden Globe at the ceremony. The 56-year-old won best supporting actor for his role as Cliff Booth in Once Upon a Time in Hollywood. After thanking director Quentin Tarantino, Pitt gave a special shout-out to his costar Leonardo DiCaprio. "My partner in crime," Pitt began. "Before The Revenant, I used to watch, year after year, his costars accept awards and thank him profusely. I know why, he's an all-star, he's a gent, and I wouldn't be here without you, man." But Pitt wasn't done quite yet. Before finishing his shout-out, he brought up the famous Titanic door scene again, jokingly adding, "Still, I would have shared the raft." Pitt's first Golden Globe win was in 1996 for best performance by an actor in a supporting role for Twelve Monkeys.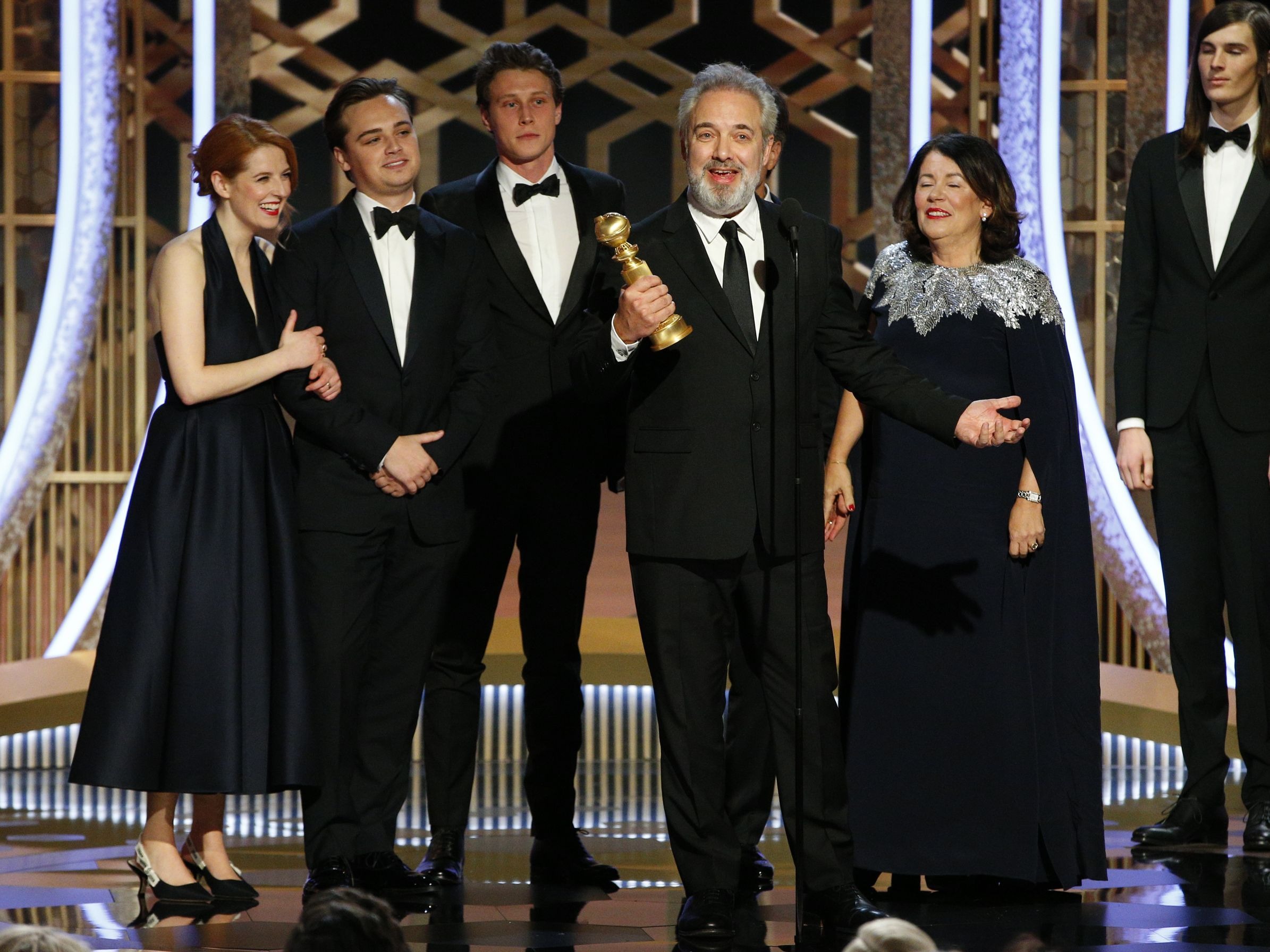 Here's a complete list of winners of Golden Globes 2020
BEST MOTION PICTURE, DRAMA
1917
BEST ACTOR, DRAMA
Joaquin Phoenix, Joker
BEST ACTRESS, DRAMA
Renee Zellweger, Judy
BEST MOTION PICTURE, MUSICAL OR COMEDY
Once Upon a Time in Hollywood
BEST ACTRESS, MUSICAL OR COMEDY
Awkwafina, The Farewell
BEST DIRECTOR
Sam Mendes, 1917
BEST FOREIGN LANGUAGE FILM
Parasite
BEST ACTOR, MUSICAL OR COMEDY
Taron Egerton, Rocketman
BEST SUPPORTING ACTRESS
Laura Dern, Marriage Story
BEST SUPPORTING ACTOR
Brad Pitt, Once Upon a Time in Hollywood
BEST ANIMATED FILM
Missing Link
BEST ORIGINAL SONG
"I'm Gonna Love Me Again," Rocketman
BEST ORIGINAL SCORE
Joker
BEST SCREENPLAY
Once Upon a Time in Hollywood
CECIL B. DEMILLE AWARD
Tom Hanks

BEST TV SERIES, MUSICAL OR COMEDY
Fleabag
BEST ACTRESS, TV MUSICAL OR COMEDY
Phoebe Waller-Bridge, Fleabag
BEST ACTRESS, TV DRAMA
Olivia Colman, The Crown
BEST TV SERIES, DRAMA
Succession
BEST ACTOR, TV DRAMA
Brian Cox, Succession
BEST ACTOR, TV MUSICAL OR COMEDY
Ramy Youssef, Ramy
BEST LIMITED SERIES OR A MOTION PICTURE MADE FOR TELEVISION
Chernobyl
BEST PERFORMANCE BY AN ACTOR IN A LIMITED SERIES OR A MOTION PICTURE MADE FOR TELEVISION
Russell Crowe, The Loudest Voice
BEST PERFORMANCE BY AN ACTRESS IN A LIMITED SERIES OR A MOTION PICTURE MADE FOR TELEVISION
Michelle Williams, Fosse/Verdon
BEST PERFORMANCE BY AN ACTRESS IN A SUPPORTING ROLE IN A SERIES, LIMITED SERIES, OR MOTION PICTURE MADE FOR TELEVISION
Patricia Arquette, The Act
BEST PERFORMANCE BY AN ACTOR IN A SUPPORTING ROLE IN A LIMITED SERIES OR A MOTION PICTURE MADE FOR TELEVISION
Stellan Skarsgard, Chernobyl