Culture Canvas: Just William and Me
William is everything a memorable protagonist should be—idealistic, well-intentioned, quirky, opinionated and oh-so-lovable, despite all his failings.
One hundred and one years ago, in 1919 to be precise, a new hero burst on the scene in UK's now-defunct Home Magazine: a scruffy, 11-year-old boy called William Brown. In that first appearance, in a story titled Rice-Mould, we see him trying to impress a little girl who hates the rice-based dessert but encounters it, every day, at mealtimes. Captivated by her "gloomy blue eyes" and inclined to cling onto "his reputation for omnipotence," in those aforesaid mentioned eyes, young William offers to bring her some cream blancmange pudding.
The quest for the pudding takes up the next ten-odd pages of the story, a hilarious one involving familial encounters; an altercation with the cook; a brief pit stop involving the consumption of a pile of pears; a temporary reconciliation with his "inveterate enemy", the family cat, and more. He finally manages to procure what he thinks is cream blancmange from the larder, crams it into a soap-dish (he forgets the remove the soap "but it was only a small piece" anyway), and sneaks out.
Like Don Quixote, however, young William, despite his bravery and the noblest of intention, is beset by terrible luck.
In all the mayhem, he has filched the rice-mould, instead, by mistake.
Books-- like people you once loved--age differently. Some of them, like that college boyfriend you meet twenty years later in a supermarket, will make you shake your head and wonder, "what did I see in the first place?" Others, the ones you reread the most, usually, will be that familiar lover: you think you've discovered all there is to know when the sudden beauty of a line or turn of phrase makes your heart still for a moment. Some books (and loves), you lock away in the farthest corner of your mind and try to forget them. And there are the ones that cling onto you like a burr; you can never really shake those off.
Your childhood books, the ones you've grown up on, often fare the worst, I think. I still go back to them: classics like the Little Princess and The Jungle Book; all the Enid Blyton series; the disgusting, but funny stories of Roald Dahl, only to realize that reading them through an adult lens sometimes tarnishes the magic.
Take, for instance, the Oompa Loompa's assessment of Augustus Gloop. Calling him "the great big greedy nincompoop… Augustus Gloop, so big and vile… so greedy, foul, and infantile," may be hilarious but it's also cruel. (And I don't approve of the fat-shaming).
Not the William series, however. If anything, William, like fine wine and rum-soaked fruit for plum cake, gets better with age. Reading William as an adult is a different, but enriching, experience. You're still rooting for William, of course, age does not affect that. But you spot nuance in the text that you possibly didn't as a child; you appreciate the wry British humour, the excellent characterization, the comic irony and great dialogue, and a lot more.
One of my favourites? This fascinating observation about poetry (I don't share it, but it is rather illuminating) offered by Ginger, William's best friend, in a story titled William and the Pets' Club. "Po'try makes anyone bad-tempered," said Ginger. "It can't say what it means straight off 'cause it's got to rhyme, an' it makes the person reading it bad-tempered wondering what it means. I once had to learn one about a tiger burnin' bright an' it nearly drove me mad."
Ginger, I gather, is not impressed by William Blake.
William, surprisingly, didn't start off as being a children's hero. According to his creator, Richmal Crompton, "I began to write them entirely for adults about children," she says in this BBC interview. However, over time, William "gradually drifted to the shelves of junior libraries and shops", adds the author. He has even snuck into a textbook or two. "I don't think William would have approved at all, of his stories being made into a school textbook," she says, with a laugh.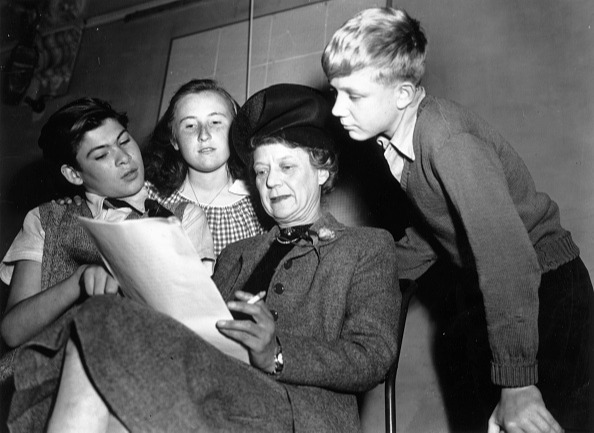 Crompton, the daughter of a curate, published her first short story, titled Thomas in 1918, while still teaching the Classics to the girls of Bromley High School in Bickley, London. William, who arrived a year later was loosely based on two little boys personally acquainted with the writer. "I didn't have to look very far for models," admits Crompton who never married or had children herself, adding that her "first William stories were based on my memories of my brother's boyhood. And when I had exhausted those, there was a nephew of 11."
Originally intended to be the protagonist of a single short story, the snub-nosed, messy William soon became a brand unto himself. By the time she retired from her teaching career—in 1923 after a bout of polio left her lame—Crompton had published two volumes of collected William stories, Just William and More William, both illustrated by the fabulous Thomas Henry.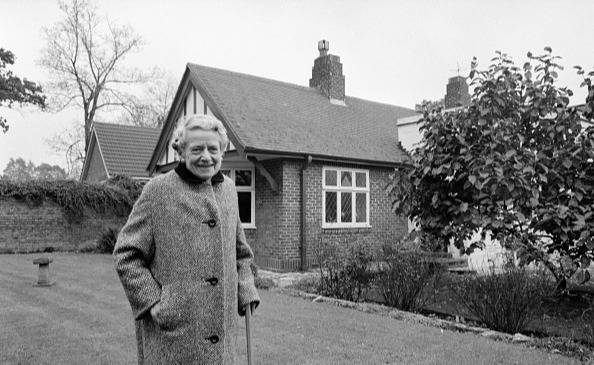 The success of her William series wasn't welcomed by the author, however. Though she admitted to being very fond of him, she also thought of him as a sort of "Frankenstein's Monster". Like Arthur Conan Doyle, who grew very tired of his creation, Sherlock Holmes, Crompton resented the shadow William cast on what she thought of as her "real" writing. Her 41 adult novels and nine collections of short stories "didn't get quite a fair chance," she says, in that same interview. "I think that William overshadowed them so much that people who liked William didn't like a book by me, not William. And the people who dislike William, dislike any book by me, you see."
Despite the author's misgivings, I cannot help but celebrate William--he truly is a fabulous hero. He's everything a memorable protagonist should be—idealistic, well-intentioned, quirky, opinionated and oh-so-lovable, despite all his failings.
As Deborah Collcutt points out in an article in the Daily Express, "William's genius is that despite his mischief, he isn't malicious, and despite his cunning, he is never cruel. He is curious, quick-witted, resourceful, funny and loyal," she writes.
He is also incredibly original. Consider William's summary of Shakespeare's Hamlet, somewhat influenced by the theory that Francis Bacon was the real author of the play.
"Please, sir, he told us that he thinks that the plays of Shakespeare were really written by a man called Ham and that Shakespeare poisoned this man called Ham and stole the plays and then pretended he'd written them. And then a man called Bacon pushed a woman into the pond because he wanted to marry his mother."
I can't, for some reason, remember the exact year I discovered William. After Blyton, for sure, and before my descent into those disturbing portrayals of American high school life aka Sweet Valley High and River Heights.
The very first William story I read, titled William and the Tramp (the book derived its name from this story) was luckily an excellent one that launched me straight into the country village in Southern England where William lives. And introduced me to some of the series' most compelling characters, including his long-suffering mother; his brusque father, his siblings, Robert and Ethel; his friends, Ginger, Douglas and Henry; and the irrepressible Violet Elizabeth Bott (one of my favourite characters), whose lisp and curls are oddly at variance with her almost-adult guile and skills of persuasion. "I'll thcream and thcream 'till I'm thick," she threatens, when she doesn't get what she wants. (This usually works on the hapless male—trust me on this one.)
I spent the next five-odd years trying to buy every William book I could get my hands on. I was lucky—I had a particularly generous aunt who (wisely) preferred gifting me books, instead of clothes, when I visited her in Bombay and a father who thought the same way. I am now the proud owner of around 30 William books, pretty impressive when you consider how hard it is to find the 38 books that constitute the series.
When the world wearies me-- and it does so often, nowadays--I dip into my collection and read a few William stories. Young Brown's pithy observations never cease to enthral me.
Take, this one, from the collection titled William The Fourth: "All gotter be equal,' he pronounced fiercely, 'all gotter have lots of money. All 'uman beings. That's sense, isn't it? Is it sense, or isn't it?"
Or this, an extract from the story The Mystery of Oaklands, a part of a collection titled William.
"Tell you what it is," he said, warming to his theme, "policemen have gotter be stupid 'cause of their clothes. I mean, all the policemen's clothes are made so big that they've gotter be very big men to fit 'em an' big men are always stupid 'cause of their strength all goin' to their bodies 'stead of their brains. That stands to reason, dun'tit?
And, finally, this one, a personal favourite from Still William, one I intend to leave you with.
"An' I'm never going to marry any ole girl," said William.
"'S all very well saying that," said Douglas again, gloomily, "but some ole girl'll probably marry you."